31 May 2012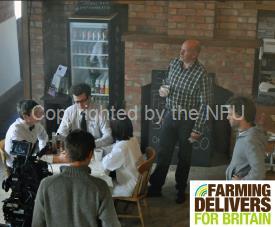 TV funnyman Simon Day has thrown his support behind the NFU's new Farming Delivers for Britain campaign, appearing in a short film to promote the cause.

Best known for his roles in the BBC comedy programmes The Sketch Show and The Fast Show, Mr Day explains why and how farming delivers for Britain.



The campaign, launched last week with a farming-themed boat on the Thames and an MP reception at Westminster, aims to educate the public on what farming does for Great Britain.

Mr Day said: "You don't think about the environmental side of things, or that three quarters of the country is kept by farmers, or how much they contribute to the economy. Choosing a London voice, rather than a cartoon with some cows and a farmer in it, is a good way of doing it.

"It will hopefully make people stop and think. You got the right man for the job – I am Mr Farmer. Even though you wouldn't know it to look at me."

As part of the campaign, shoppers can go online to be in with a chance of winning an iPad. Entries can be made by liking the Farming Delivers Facebook page and fans will then be automatically entered into a prize draw.